Not sure whether you can wash cycling gloves or not? This is exactly what I was wondering when mine started smelling odd. After searching around for a bit I've found the answer to the question: Can you wash cyclin gloves or not?
Can you wash cycling gloves?
Yes, you can wash cycling gloves! However, cycling gloves are made from a very delicate synthetic fabric. Therefore, you have to be careful, and not just throw them in the washing machine.
Things you will need:
Recommended
Tide Mild washing detergent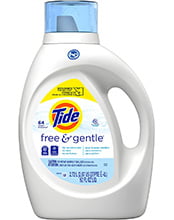 A washing machine
A mild detergent or green soap
(optional) A laundry bag
How to wash your cycling gloves
Here is a quick guide on how to wash cycling gloves, either by hand or in the machine. Follow these steps and you will have clean cycling gloves without damaging them!
Washing time: 15 minutes
Fill a bucket with warm water

Fill a large 10-liter bucket with warm water. The water should be warm, and not too hot. If the water is too hot to leave your hands in, it is probably too hot for your cycling gloves too.

Add detergent and soak your gloves for 10 minutes

Add a generous amount of washing detergent to the bucket with water. Next, soak the gloves in the bucket and leave them in for about 10 minutes. If your cycling gloves are really dirty, you can leave them in a bit longer.

Tip: Did you ever hear of Doctor Bronner's pure castile soap? In my opinion, it is the best soap to use for cleaning just about anything.

Gently rub the gloves over each other to remove dirt and stains

The best way to remove dirt from your cycling gloves is by rubbing them together. Do not use a brush or anything else, as this might damage the material of your gloves.

Rinse the soap out and repeat if necessary

Rinse all the soap out of your gloves. If there is still dirt or stains on the gloves repeat the above steps until they look clean, and smell nice. When you are satisfied with the result rinse out all the access soap.

Let your cycling gloves hang dry

Finally, when your gloves are clean and smell like roses, it is time to let them dry. The best way to dry your cycling gloves is by hanging them on the clothesline. Make sure you don't leave them in the sun for too long as this might damage the pigment in the fabric.
That is it! The age-old answer to the question of whether you can wash cycling gloves or not. You will be surprised how easy it actually is to clean them and make them look new again.
Good luck!