Golf wouldn't be golf if your clubs do not get a proper beating every now and then. Therefore your golf clubs need to be taken care of. In the end, nobody wants clubs looking like old, dirty pieces of metal.
Things you will need:
Recommended
Club Doctor Golf club polish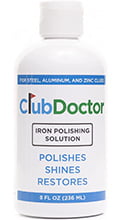 A 10-liter bucket, filled with warm water
Green soap or a dishwashing liquid
A golf brush or an old toothbrush
An old towel to dry your clubs
Chrome or steel polish
A piece of microfiber cloth
In this short guide, we will show you exactly how to clean your golf clubs and make them look new again!
Total cleaning time: 40 minutes
Fill a bucket with warm water and add 3 teaspoons of green soap

Fill a 10-liter bucket with hot/warm water. There should be enough water in the bucket to cover the golf club heads.

Next, add 3 teaspoons of soap or dishwashing liquid. We love using Docter Bronner, they make the best organic, fair-trade pure-castile soap.

Put the golf club heads in warm water and leave them in for 10 minutes

To get rid of all the dirt on your golf clubs it is best to leave them in water for 10 minutes. This will loosen all the dirt that is stuck between the grooves on the clubs.

Remove all the dirt using a golf club brush or toothbrush

The best way to remove all the dirt from your golf clubs is by using a golf brush. Golf brushes are unique because they have two brushes on them; a brass and a nylon brush.

If you don't want to buy a golf club brush an old toothbrush will do the trick too!

Tip: Make sure you clean the club heads thoroughly. Leftover dirt can negatively impact your next game.

Rinse clean, and thoroughly dry the clubs with a towel

Rinse the golf clubs one last time after removing all the dirt. After that, it is very important to dry your golf clubs with a towel. If there is water left on the club there is a chance it will rust.

Polish your golf clubs using a chrome or steel polish

To make your golf clubs look new use steel or chrome polish. Apply a thin layer and let it sit for about 5 minutes (until the liquid becomes matt). After that, use a microfibre cloth in circular motions to polish the golf club.